Introduction
PenguinWorx is a lightning fast simple PHP framework built with SEO and speed in mind. Combining PenguinWorx and Twitter's Bootstrap is the perfect platform to build fast responsive HTML5 websites quickly. Simply upload PenguinWorx, edit penguin-config.php with your default website configuration and you're ready to go. No MySQL databases or extensive PHP knowledge required.
Yes, there are plenty of CMS (content management systems) available. The problem is, many of them are bloated with features that are simply not needed or unwanted in many cases. The reason behind PenguinWorx is to have that custom backend to easily control every aspect of your content, themes and URL/URI structures.
SEO (Search Engine Optimization)
SEO is one of the key reasons behind PenguinWorx. In so many cases I've seen websites and CMS's have incorrect URL structures penalizing SEO ranking or causing issues with the site.
There are 4 different URL's you can use to access a common website (not including SSL). www.domain.com/about-us, www.domain.com/about-us/, domain.com/about-us and domain.com/about-us/. Entering any one of these 4 items into your browser would load the page normally (not getting into GET's). However, search engines and social networking sites can see each of these as a different page. This can penalize your rankings for duplicate content and cause incorrect social networking counters, comment widgets, etc. information.
PenguinWorx makes it simple. All URL's use the rewrite engine and are turned absolute, www.domain.com/about-us/. There is also an option to not force www. traffic, which is required for sub domains. You'll never see a .php or .html page with PenguinWorx.
All pages and modules have the ability to set unique titles, meta data and opengraph tags. If you forget to set the variables, the system will load your default data from your config file.
Speed
Speed or page load times was another key factor for PenguinWorx. You will be hard pressed to find another framework that loads pages faster. Powering your website with NGINX and SSD Storage generates blazing fast page load times with PenguinWorx. Page was generated in 0.000998 seconds.
PenguinWorx also doesn't require MySQL databases, increasing page load speeds. In the case you require MySQL connections, load them from your page or module instead of the framework. This alleviates MySQL connections for URL's that don't require them.
Page Types
There are two types of page types currently available with PenguinWorx, which should cater to anything you'll need during development.
Individual Pages
This page type is built for static URL's. Example: www.domain.com/about-us/. This page type does NOT allow wildcards so www.domain.com/about-us/Florida-Office/ would require a 2nd page file.
Default Pages
home.php – Your home page Example: www.domain.com/
404.php – Your page not found or default display page, displayed when the requested URL page or module is not found.
Adding new pages is simple. Simply duplicate the example file included, then edit the meta data, open graph data, and add your page content. When PenguinWorx attempts to locate a page, it searches your _Pages/ directory converting periods to forward slashes for the URL.
Examples:
www.domain.com/contact-us/ would be page.contact-us.php
www.domain.com/about-us/corporate Would be page.about-us.corporate.php
Modules
Modules allow you to create wildcards with the URL structure, quickly giving you control of the content displayed for a given URI, from a single script. (Example: /about-us/Florida-Office/, /about-us/NewYork-Office, etc).
This page type is perfect for shops, images, videos, profiles, etc. View the screen to see a screen shot with a quick module example and output.
Module's work a bit differently than pages. Modules are based on folders so you can properly keep track of it's required files. When PenguinWorx attempts to locate a module, it searches your _Modules/ directory for a folder with the name of the first given URI call.
Examples:
To create a module for www.domain.com/contact-us, create a folder or copy an existing module into _Modules/contact-us/. The script always calls the index.php within the given module folder. You now have a wildcard setup for the /contact-us/ URI.
Note: Modules take priority over _Pages/, so be sure you don't duplicate your URL's.
Themes/Templates
PenguinWorx makes it easy to manage different themes and can easily support different themes for different URL's on both page types. Having the ability to fully control your content is key.
How To Download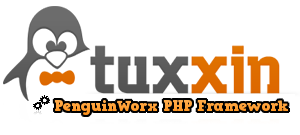 Change Log
v1.1
Added MySQL support (called by individual pages/modules).
Added PHP session support (configurable options).