PenguinWorx v1.0 has been released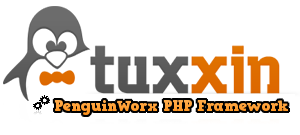 Working with small businesses we've noticed in many cases, that websites don't have a good framework causing poor URL structures and poor rankings. In most cases it was due to the original website designer not knowing enough about SEO or not having the PHP abilities to create a framework to properly support the website.
PenguinWorx is a lightning fast simple PHP framework built with SEO and speed in mind. Combining PenguinWorx and Twitter's Bootstrap is the perfect platform to build fast responsive HTML5 websites quickly. Simply upload PenguinWorx, edit penguin-config.php with your default website configuration and you're ready to go. No MySQL databases or extensive PHP knowledge required.
Please check the product information page for full details, http://www.tuxxin.com/penguinworx/.